Wheelchair Lifts For Home And Business
If a residential elevator doesn't fit with your needs or budget, consider the option of a platform lift instead. Wheelchair lifts can be simple and minimal, hoisting an open platform a few inches to twelve feet - or complex and fully featured, rivalling home elevators in look and functionality. In any case, they are generally both less expensive and easier to install, than their elevator cousins. They are thus ideal not only for the homeowner on a budget, but also for public places where wheelchair access is required.
Symmetry Wheelchair Lifts
Our trusted partner for home elevators, Symmetry Elevating Solutions, also offers line of high-quality lifts for home and business. Symmetry lifts come with an industry-leading 4 year warranty, and are the only lifts in the industry using AWARE diagnostic technology. The units are sleek, quiet, and unsurpassed in safety features.
---
---
Harmar Wheelchair Lifts
---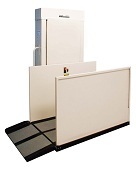 Harmar Highlander Residential Lift
Harmar's Residential Vertical Platform Lift (RPL) is a safe, smooth and economical solution to the barriers porches, staircases, decks and other elevation changes can create in and around a home.
Designed from the ground up to be as cost-efficient as possible, the RPL is priced to be competitive with shorter units but built to accommodate most residential applications with ease.
Available in heights from 4 to 6 feet and for use indoors and out.